Choosing A Topic For Your College Essay
Every great essay begins with an idea. But finding this idea is no easy task. Often you have to search through your entire life's collection of experiences to find that one "thing" that will encapsulate who you are and do so in less than two pages. And if you're like most students, you have plenty to choose from; so the real question is how do you know one topic is better than another?

This guide is designed to help you sift through your ideas and find those gems that will turn into powerful admission essays. So get out a pad of paper or fire up your computers, and let's find a great essay topic.
Begin with a brain storm.
When we got our Australian cattle dog named Sushi, the first thing she learned (much to our dismay) was how to successfully coerce humans into giving her "people food". Her method was not elegant but very effective. Sushi simply tried every trick she knew—sit, jump, lick, crouch, whine, stare, bark—until she found the right combination that would entice each individual to do what she wanted. Instinctively she knew that the process of trial and error worked.

When it comes to finding the perfect topic, we can all learn something from Sushi. While it is not elegant and relies on trial and error, the best way to discover a great topic is brainstorming. To get off to a blustery start, first read all the questions in the colleges' application forms. You want to have these questions in the back of your mind as you evaluate possible topics. The key to successful brainstorming is to record every idea that pops into your head. Remember: No topic is too silly, complex or stupid (at least at first) to write down.
Test each idea for originality.
Once you have a list of ideas, you will need to narrow your choices. For each idea, spend a few minutes thinking about what an essay on that topic might look like. A key to writing a successful essay is that it must be original—unique—something that only you could write. Therefore, you need to eliminate any topics that would not yield an original essay. One of the best tests was told to us by an admissions officer who used what he called the "Rule of Thumb" test. Basically, if he can cover the name of the author with his thumb and insert the name of any other applicant, then the essay is not unique. You can perform a similar test on your topics. Think about each idea and what you would write about it. Then ask yourself if someone other than you could write this essay. If the answer is "yes", then the odds are that your take on that topic will not be different and unique.
Take an original approach.
If a topic fails the thumb test, see if you can find an original approach. For example, imagine that one of your topics is "Dad." Without a doubt, you already know that an essay on Dad is going to be a common topic. After all, most of us have been influenced by our parents. So already you see that the topic may not be original. But does this mean you should eliminate the idea? Not so fast. As you think about how your father has been a strong influence in your life, you might consider how every morning he wakes up to make your breakfast. You also realize that of his many breakfasts, his specialty is banana pancakes. In fact, he takes great pleasure in preparing this for you. You then think about what this act has taught you about dedication, commitment and not settling for anything but being the best. Now ask yourself if another student could write this essay. How many will focus on their dads' preparation of breakfast? How many will construct an essay around what they have learned from their dad through his perfection of banana pancakes? Even though dads are written about often, this approach is highly original. This topic may lead to a great essay after all.

Most students find that to be original they will have to find a unique approach to what is often an ordinary topic. You don't need to wrack your brain for an original topic. In many cases, you can be original in your approach to an ordinary topic.
Continued...
Want to know more about this topic?
Accepted! 50 Successful College Admission Essays

Learn how to write the essay that will get you into your dream college with this step-by-step guide that includes writing strategies from top students and admission officers. Read over 50 successful essays, and learn the 25 essay mistakes you must avoid.

By: Gen & Kelly Tanabe
Pages: 224
Learn More



Get Into Any College

The only how-to book which shows all students how to get into the school of their dreams. Based on the experiences of dozens of successful students and authored by two graduates of Harvard, this book shows you how to ace the application, essay, interview, and standardized tests.

By: Gen & Kelly Tanabe
Pages: 288
Learn More



Coming up with a good topic for your college essays can feel like the ultimate form of writer's block. After all, what could you possibly write about that will represent you in 500 words or less? The creative process definitely isn't easy, but these tips and tricks from people who have been through the process should help you get your thoughts flowing and ideas moving.
1. Focus on a moment
One of the easiest ways to think of a college essay topic is to focus on a specific instance that changed you or that represents something about your character. As Madie, a Brandeis University student, puts it, "You don't need to tell a long and complicated story to have a good college essay. All you need is a moment. Start with a moment, and work out from there. Then come back to that moment at the end of your essay." In Madie's Common Application essay, she wrote about the mantra she said to herself every day before she got out of her car to go to school. While that may seem like a rather simple topic to write about, for Madie, that everyday occurrence defined her. So ask yourself: what is a moment in your life that defined you?
Whether it is the time you ate a weird-looking fruit, the peculiar way you brush your teeth, or the time you went skydiving, it doesn't matter. The moment itself is not important. What that moment says about you is.
Related:Which Common Application Essay Prompt is Right for You?
2. Stand out
It's true: the college admission process is tougher than ever. Basically every student you will be up against has done some sort of community service. Everyone has some sport or musical instrument or other extracurricular they excel at. Tons of kids work a part-time job in addition to all their other responsibilities. It's hard to find something you did in high school that will make you unique in an applicant pool. This is not to discount the work you have done; it is just to say that everyone is writing similar essays about similar things.
You want to write about something that will make you stand out. Write about something that the poor admission officer reading all these essays hasn't read before. So take a second to think: what's something you've done that your classmates haven't? Was it meaningful to you? If so, get writing.
3. When disaster strikes . . . write about it!
In the college admission process, it can be easy to get caught up in trying to come off as the "perfect" candidate. You have worked so hard to get perfect grades, perfect SAT or ACT scores, perfect extracurricular activities—you get the picture. However, here is a little-known secret about college applications: perfect is boring. The people in admission offices reading your essays read about "perfect" all day. Your essay is the time to spice up your application. Show them a time in your life where maybe everything didn't go so perfectly. For instance, Jackson, a Division III student-athlete, wrote about the time he injured his ankle in tennis, only to go through extensive and excruciatingly painful rehab to finally get back on the court, where, on his first day back, he injured his other ankle. While revealing any imperfection in a college essay may seem contradictory to the goal of convincing a college to admit you, it often showcases your best qualities. For example, the fact that Jackson was able to stick with tennis and rehab after all of these trials shows that he is persistent and strong. As he put it, "My college essay wasn't about making myself seem amazing. It was more about reflecting on my past experiences and seeing where they got me today."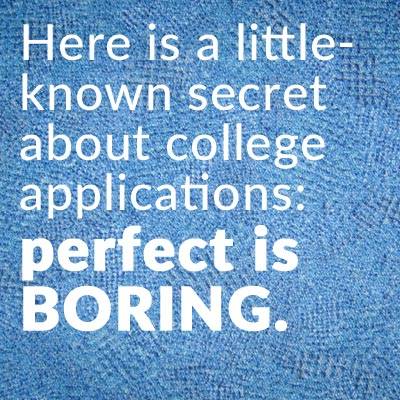 4. Be genuine
Rachel, a student at James Madison University, recalls her Common Application essay with pride, because she was true to herself in everything she wrote. In fact, she says her essay was "the most genuine thing she has ever written." When Rachel's prompt asked her what her favorite place was, she knew she shouldn't pick her bedroom or the beach she went to as a child, because those are everyone's favorite places. She wanted her favorite place to be her own. So Rachel wrote about swing sets. "Swings are everywhere," she says, so it was a relatable topic while still being unique to her own personality. Additionally, using swings as her favorite place gave her a lot of imagery to work with in her essay, because she could literally describe what being on the swings felt like. The important lesson to take away here is that if you are truthful and genuine in your essay, it will be easy to write about.
5. Write about your childhood
Your entire college application talks about who you were in high school. Admission officers see what activities you did in high school, what classes you took in high school, and what scores you got—you guessed it—in high school. While these things are important, so much of your personality forms as a child too. My friend Caroline, who was accepted to schools such as George Mason University, Wittenberg University, and Seattle University, wrote about how interest in exploration started as a child. She wrote a narrative about pushing boundaries. As a child, Caroline always rode her bike just a little bit farther than her parents allowed her to. Eventually she ended up riding all the way into the forest and exploring nature, where she developed her passion for saving the environment. By writing about how her interests, tendencies, and passions came from her childhood, Caroline was able to give admission officers a more complete picture of who she is. Think about what you did as a child that says something about your personality now. Write about what makes you, you!
Keep calm and happy writing everyone!
Note: Did you know you could win a $10,000 scholarship for college or grad school just by registering on CollegeXpress? This is one of the quickest, easiest scholarships you'll ever apply for. Register Now »
Tags:
essayswritingtips and tricksCommon Application essayCommon Applicationpromptsessay advicecollege admissionadmissionessay promptsapplication essaysadmission advice
More on CollegeXpress